What's in a CarProof?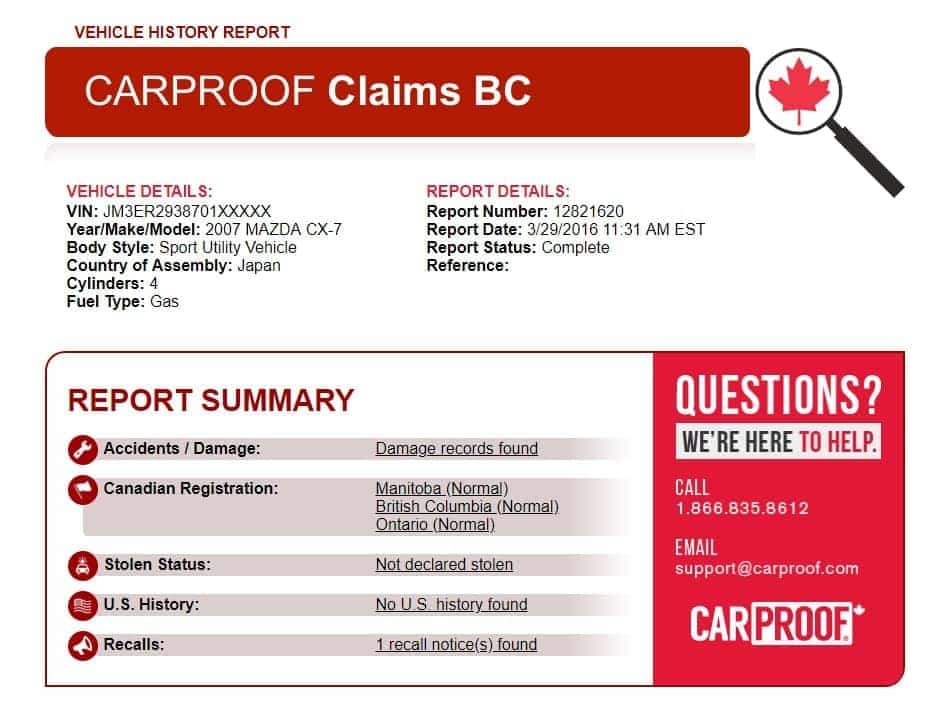 Crown Auto Group is dedicated to transparency. Whether you purchase a new or used vehicle from us, we will go over with you something called a Vehicle Disclosure Document and a CarProof Report
At Crown Auto Group we take customer service to the next level and present you with a Carproof of any vehicle. Sales Manager Garrett Krieg spends his days pouring over CarProofs with a fine comb to determine if a vehicle fits his high standards. Krieg shared his expertise with us on how to read CarProofs with a critical gaze.
A CarProof shows you the vehicles entire accident claim report and additional information such as recall history and insurance renewal. Each CarProof is a minimum of three pages. The most important part of the report is the Summary. This gives you an overview of the vehicle's history.
The part that most people focus on in a Carproof is the Accident, Collision and Damage Detail. This is the part of the report that will show all damages to the vehicle that had an insurance claim against it.
In this section, there are two parts to make note of. The first, Accident/Damage Estimates show what the initial cost of damage is estimated to be. It tells you the when, where, and what of the report. Sometimes the initial estimate and the repair cost do not match, and the insurance company has to reevaluate the Estimate Amount. One thing Krieg looks out for is if the initial estimate and the Insurance Claim don't add up. If the Claim is lower than the Estimate it could mean a poor repair job occurred. If the claim is higher than the Estimate it means that the technicians working on the vehicle did a very thorough job repairing the vehicle and found issues that even the insurance adjustor missed. This is something you want to see on a CarProof.
Crown Auto Group believes car buying should be easy and transparent. A salesperson in Manitoba is only obligated to tell the buyer if a vehicle has had repairs over $3000, but at Crown Auto Group, the entire CarProof is shared with the potential buyer. We have confidence in everything we sell, new and used.
Previous repair costs can be very scary to a buyer. A ten-thousand-dollar repair will have very different severities in damages for a brand-new vehicle versus an eight-year-old vehicle. To fully understand the impact of the incident, a Crown Auto Group Advisor can explain the difference.
Recalls are another scary word. A vehicle with an open recall needs to be repaired at the earliest convenience of the owner. A vehicle with an open recall (a recall that needs to be completed) gets repaired right away at Crown Auto Group. If by chance you have a vehicle with an open recall at home, you can take it to a manufacturer repair shop and have it fixed, free of charge.
To find out if your vehicle at home has an open recall, you can search Government of Canadas Motor Vehicle Safety Recalls Database site using your VIN. Your VIN is located inside your door frame and on the drivers side lower windshield.
Any Crown Auto Group Advisor can help explain your future vehicles CarProof. Asking the experts at Crown Auto Group will assure you understand your vehicle's history. CarProof sample provided by CarProof.com